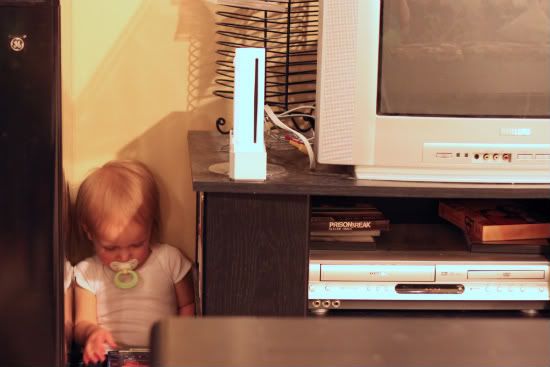 She loves them. She has her favorite spots, and most often they fit her just right. She wiggled her way in between our mini-fridge and our TV the other night and kept herself busy looking at the DVDs. She has a place upstairs, near the double doors to the office where she will sit and play forever. And stairs...STAIRS! She loves stairs! She gathers random items from around the house (this weeks favorites are batteries and tupperware) and they all end up in collections on the stairs. One day I found a pair of my shoes in a rubbermaid container paired with a bicycle headlight. That brought a smile to my face.
I love that she is so active. She is always on the move. Her mind is making so many connections about how things work. Just yesterday I found her trying to put one of her diapers on her baby doll! After a few seconds she got up and put that (clean) diaper in the trash. She knows enough to know where diapers go, and made the connection with her baby.
I hope that she will be ready to accept a new sibling in September. (By the way, we're having another baby.) She has always seemed to interact with other children well, but I can't help but wonder how things will be. People have more than one kid all the time. People adjust to the added craze that comes with more than one child. I just hope our transition will be one we can all live through.