The one benefit to living with one of the most treacherous driveways in the world is the sledding. After dinner we all went outside and had a little fun. Liliane and me are at the top and Grandma Gray is the one out of focus. Grandpa Gray took on the task of ensuring we wouldn't hit the concrete, so he stood at the ready with the snow shovel (what a guy!). Brandon, Jordan's brother is the one watching his mom, and Jordan is who took the picture.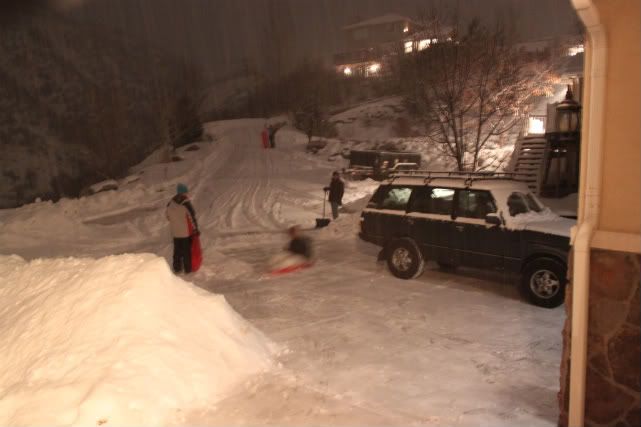 Liliane totally LOVED going down the run! She went down at least 4 times with me and a few times with Jordan. The only problem was when Jordan went to brake a bunch of snow sprayed in Liliane's face, which didn't make her cry but did make her cold. After she had had enough, I took her inside and we watched from the front window as everyone else kept going.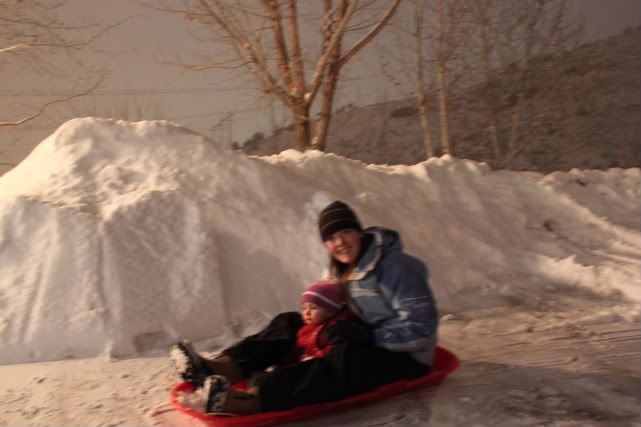 I guess I have to hold more still when someone is taking a picture of me at night. (Even though the picture looks light, it was completely dark out, and we have yet to learn about how to take better night photos with our camera.) Jordan did a pretty good job considering our lack of expertise.